A supposed human family live above my new home. A mum, dad, toddler, and baby.
Through the ceiling they sound to all the world like the Honey Monster reenacting a WWE Smackdown between Hulk Hogan and The Undertaker, but I was assured they are actual civilised-ish human beings.
Then I saw one.
I caught first sight of the mum as she ambled past my window with the youngest in a buggy. She was singing -
"Row, row, row your boat,
Gently down the river,
If you see a polar bear,
Don't forget to shiver."
Inhuman! I was outraged on two levels.
- Windows are a two-way system. You may stop to peer in at me as you sing your ditty, but notice how my eyes are fixed in the direction of your face. That's me seeing you. I am watching you do this. You don't know how windows work.
- Those are not the lyrics. You're child will be mis-informed and will only realise your rogue nursery rhyme antics when it comes up during a quirky student pub chat 20 years hence. Your child will undoubtedly come to resent you as much as I do.
The nursery rhyme 'Row Your Boat' is precious to me on two levels. 'Rowtheboat' is my dad's nickname for me because the first syllable of my name is 'Ro'. Very well thought-through and witty, as are all dad's nicknames for kids.
Then there's the underlying message. I think 'Row Your Boat' is second to none when it comes to nursery rhymes with a powerful philosophical thrust. Even more so than that battle cry of socialism 'Baa Baa Black Sheep'*
"Row, row, row your boat
Gently down the stream
Merrily, merrily, merrily, merrily,
Life is but a dream."
The rhyme is presenting us with a cold and bold wake-up call; Reality is not real.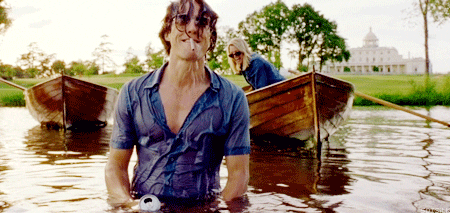 It does not matter what you do in this world because reality itself is a mirage. Keep paddling away down that stream trying to get to wherever you think you're going but ultimately it's pointless. There is no end destination.
One could dip headlong into existential despair at the realisation we are taking part in a elaborate farce but the rhyme offers another solution - go merrily, merrily, merrily, merrily. Life may be meaningless but fuck it, have some fun as you slip downstream.
And this the mum upstairs substituted with a highly-doubtful polar bear sighting on a river!?
The 'neighbours from hell' saga has just begun...
I'm on Twitter @theroryjohn
*Notice how d
espite the signalled power structure, the master, dame, and little boy who lives down the lane are all treated as equally deserving in the eyes of the black sheep.